TOP
>
The Okawa Prize Commemorative Symposium 2016
The Okawa Prize Commemorative Symposium 2016
The Okawa Prize Commemorative Symposium 2016 was held on March 2, 2017 at Fujiwara Memorial Hall, Keio University Hiyoshi Campus hosted by Keio University and the Okawa Foundation.
(With the cooperation of: Information Processing Society of Japan and The Institute of Electronics, Information and Communication Engineers)
In the first part of the symposium, after the opening remarks by Dr. Hideyuki Tokuda (Professor, Keio University and Director of the Okawa Foundation), Dr. Yasuhiko Yasuda (Professor Emeritus, The University of Tokyo and Waseda University, Chairman of the Okawa Foundation Board of Councillors and a member of the Okawa Prize Selection Committee) gave a brief introduction of the Okawa Foundation and the Okawa Prize. Then Dr. Hideo Aiso (Professor Emeritus, Keio University) and Dr. John L. Hennessy (President Emeritus, Stanford University), the winners of the Okawa Prize 2016, delivered commemorative lectures.
| | |
| --- | --- |
| Dr. Hideyuki Tokuda | Dr. Yasuhiko Yasuda |
In his lecture "The End of Road for General Purpose Processors and the Future of Computing," Dr. Hennessy discussed the developments and the future of general purpose processor performance. He pointed out that the era of drastic growth in processor performance has come to an end due to architectural and technological challenges. A shift from general purpose desktops to personal devices, virtual reality, cloud-based computing and machine learning also changed how processors are used. At the same time, however, he concluded that the changes in application have opened new paths to achieving performance growth with radically different approaches to computing.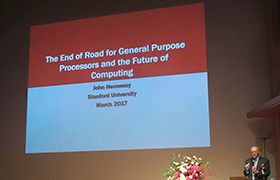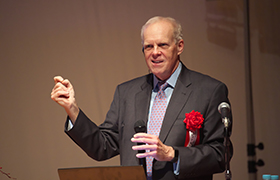 The Okawa Prize Commemorative Lecture Dr. John L. Hennessy
In his lecture entitled "Experiences of Education and Research in relation to Computer Science –From Computer Architecture Research to University Reform—," Dr. Aiso summarized more than 40 years of his experiences in research and developments of advanced computers including ETL Mark IV, the first transistor computer in Japan, and in contributions to national projects such as the development of high performance computer systems supported by the Ministry of International Trade and Industry. He also brought lessons from these precious experiences into the education of young researchers and university reforms. Finally he presented a future prospect of university education and research as well as the interdisciplinary way of operating schools or departments based on information technology.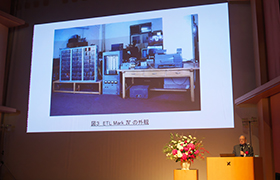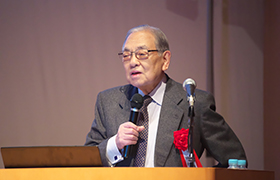 The Okawa Prize Commemorative Lecture Dr. Hideo Aiso
In the second part, a panel discussion under the title of "Evolution of Computing and Role of Research University" chaired by Dr. Tokuda was presented. Dr. Aiso and Dr. Hennessy, who played leading roles in research and served as leaders in university education, actively exchange their knowledge and opinions throughout the discussion and the QA session.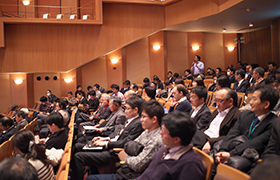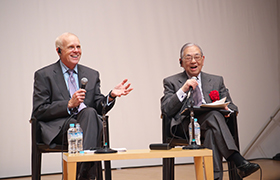 Panel Discussion
*Video recording of the Okawa Prize Commemorative Symposium is available here.
*For the Okawa Prize, Okawa Publications Prize and Research Grant Presentation Ceremony, click here.
*For the career and achievements of Dr. Aiso and Dr. Hennessy, click here.